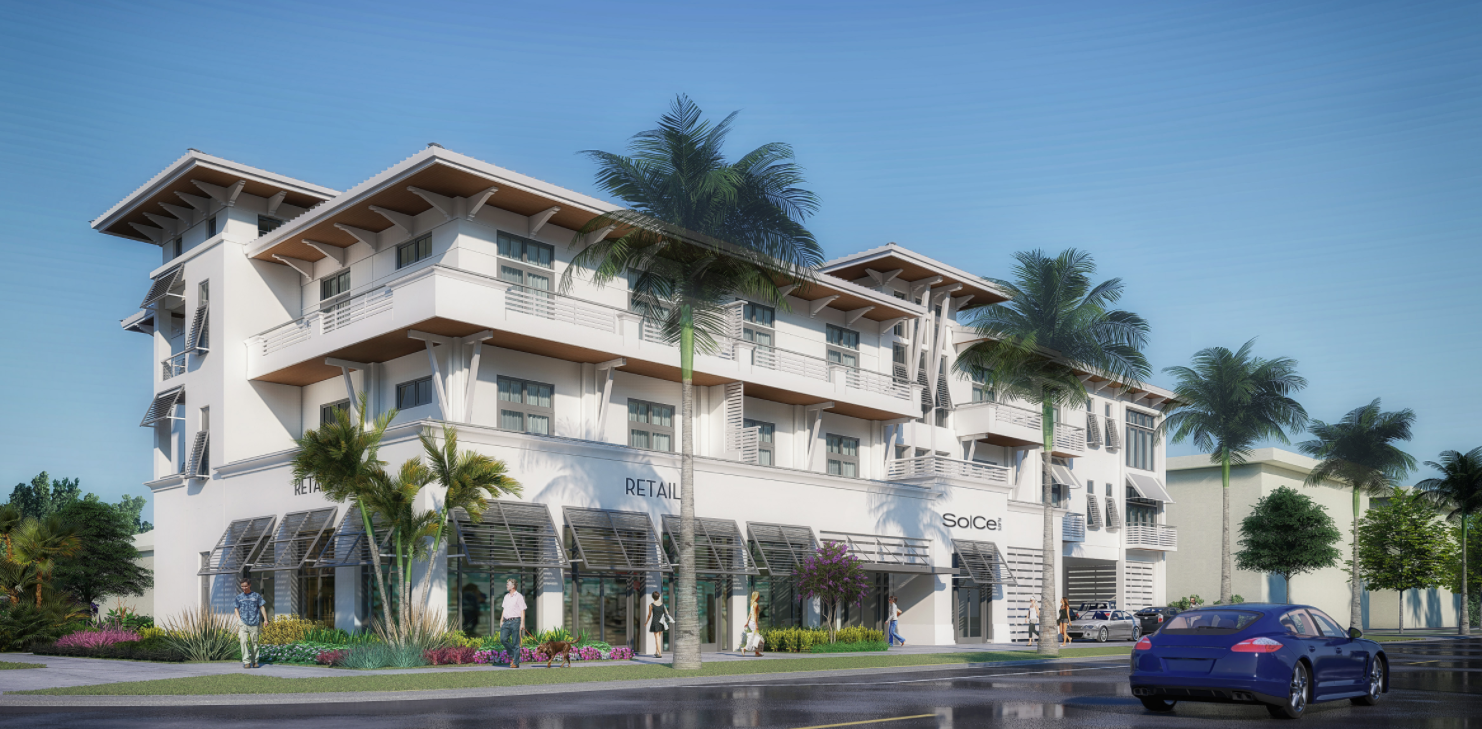 View All Naples Solce Flats Listings
Amenities:

Near Downtown Naples

Great for Investors

Pet Friendly

Turnkey Ready
Beyond it being among the better of new options in Naples real estate investment properties. The Naples Solce Flats development by Waterside Builders epitomizes upscale urban living and will especially appeal to who desire to live in close connectivity to the distinctive dining, shopping and cultural attractions that all combine to compel Naples' designation as one of America's best small cities (as well as its ranking of best beach town in America). And to be sure, Naples Solce Flats is NOT the Florida Panhandle variety of posh, but moreso indicative of Southwest Florida's exquisite feel of fresh and fabulous (those who know the difference will know just what I mean). This three- story development located at 101 8th Street South in downtown Naples represents one of the best Naples' real estate investment properties at present.  Anticipated to be completed by the end of 2020, Naples Solce Flats is comprised by one bedroom (or 1 room with study)and two bedroom residences that range in size from more than 600 to over 1,200 square-feet. Priced from the $600's  to upper $900's the units are not being furnished in the standard hotel/motel manner of cookie cutter design  The award-winning interior artistry enterprise of Clive Daniel has been commissioned to instill a singular aesthetic allure for each residence… indeed, a variety of these will even be turnkey ready.
Naples Solce Flats Interior Elements
Irregardless of the original design imparted within each residence, there are some features for which all will benefit. These include 10ft. ceilings, quartz counter tops, 7ft. deep balconies and hardwood flooring throughout. Naples Solce Flats is also pet-friendly.
Excellent Option In Naples Real Estate Investment Properties
For real estate investors Naples Solce Flats abounds with opportunity to produce steady streams of income. The residences here have not only been approved for long term rental, but also as short term (by the night or by the week).
Notably Nearby
Whether in terms of a stand-alone development or its appeal among Naples real estate investment properties, a fundamental aspect of Solce Flats appeal derives from its walk-able proximity to the popular downtown attractions in upscale shopping, fine alfresco dining, cultural enrichment in-the-arts found among the variety of art galleries, Sugden Theater, or Cambier Park concerts &special events. You'll never want
when it comes to things-to-do-and-see before enjoying dinner and a show by the Naples Players, You can join with others to watch the greatest show in town, a sunset at the Naples Pier. No two sunsets are ever the same and all draw applause.
Naples Solce Flats is so new that there are no present listings available via the MLS system, but for answers to additional question or to arrange a tour of the development and surrounding communities please drop me a note by submitting the form below:
Other Naples & SWFL Real Estate Investment Properties
Courtesy of Cornerstone Coastal Properties

Courtesy of United Real Estate Infinity

Courtesy of Downing Frye Realty Inc.

Courtesy of John R. Wood Properties

Courtesy of Eventide Realty Services LLC

Courtesy of Local Real Estate LLC

Courtesy of Savvy Avenue, LLC

Courtesy of Saggio Realty, Inc

Courtesy of Saggio Realty, Inc

Courtesy of Riverside Real Estate Inc