Thinking About Listing Your Naples Home To Sell? Now Is A Great Time!
Posted: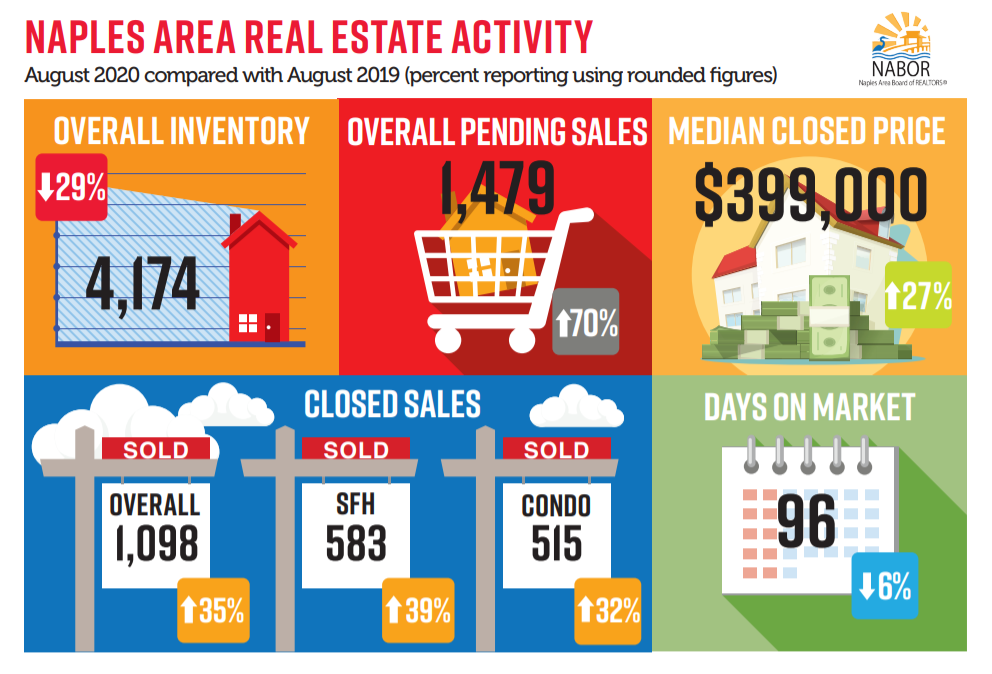 If you're thinking about listing your Naples home to sell now is a great time!
I'm predicting that we're approaching the precipice of a seller's market, because according to the latest market stats from the Naples Area
Board of Realtors.Data indicates August had the highest month-over-month increase in pending sales compared to any other month reported in 2020, with a 70.4 percent increase to 1,479 pending sales from 868 pending sales in August 2019. Not surprising, home buyers seeking single-family homes continued to tilt the scales in August as the report showed a 76.4 percent increase for this home category, while pending sales of condominiums increased 63.9 percent. At the same time, there was a sufficient drop in inventory, however demand is certainly posed to increase as news reports indicate that almost 1000 people have been moving to Florida every day during the pandemic out of want to avoid the higher population problems associated with larger cities.
Home buyers want what we have Here
Here in Southwest Florida, we know that each Winter brings an influx of arrivals from northern areas of the U.S. who return to their Winter homes here. Many of these seasonal residents ultimately resolve to buy a home because the mortgage costs may be better than the excessive seasonal rental fees. It has also been conjectured that this Winter will likely result in even more visitors due to want to avoid a second wave of potential Covid-19 cases among the larger, more densely populated metropolitan areas in the Northeast. Those who list their home for sale now are best positioned to take advantage of the demand that I'm predicting will peak through 4th quarter of 2020 and first quarter of 2021. I think there's a lot of pent-up buyers just itching to enjoy our weather, golf beaches and quality of life.
So again, the point here is if you've been thinking about listing your Naples home or condo for sale, now does appear to be a very optimum time.
For more information about how I can help fulfill your goals please just send me a note by submitting form below
Current Naples homes and condos for sale
Courtesy of Downing Frye Realty Inc.

Courtesy of Naples Flat Fee Realty LLC

Courtesy of Downing Frye Realty Inc.

Courtesy of William Raveis Real Estate

Courtesy of Real Estate of South Florida

Courtesy of Compass Florida LLC

Courtesy of William Raveis Real Estate

Courtesy of William Raveis Real Estate

Courtesy of Premiere Plus Realty Co.

Courtesy of Premiere Plus Realty Co.

Courtesy of Compass Florida LLC

Courtesy of Waterfront Realty Group Inc