Realtor Rusty Van Buskirk
Realtor Rusty Van Buskirk was raised in the coastal community of Orleans on Cape Cod, Massachusetts.  While Realtor Rusty Van Buskirk was actually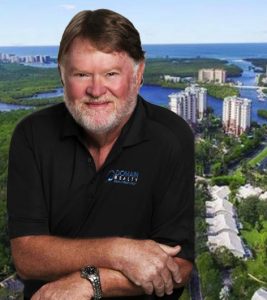 named "Bruce," he was born with a head full of such flaming-red hair, nurses bestowed the moniker of "Rusty," and the nickname persisted throughout my life.
Growing up, Realtor Rusty Van Buskirk bonded with the coastal lifestyle and was a member of our local Sea Scout Troup and developed an interest in sailing and surfing, Realtor Rusty Van Buskirk attended Babson Institute in Wellesley, Massachusetts, and later Wentworth Institute where Realtor Rusty Van Buskirk graduated in 1972 with a degree in Architectural Engineering. That same year, Realtor Rusty Van Buskirk married his long time girlfriend, Lori Warshauer. They went on to become parents of three sons. Realtor Rusty Van Buskirk's early career involved selling real estate throughout New England as well as the Canadian Atlantic Provinces during the 1970s. That continued after the family moved to New York, where the family was involved in resource management and land development.
Their extended family began vacationing in Naples during the 1980s, and later made Naples a seasonal escape from winters up north. Finally, in 2012, upon retiring from a career in the timber industry and resource management, as well as the buying and developing of a land, they resolved to make Naples a full-time home. After obtaining my Florida real estate license, Realtor Rusty Van Buskirk went on to become very experienced in the buying and selling of homes in Southwest Florida.  As a family man, father, grandfather who enjoys the range of recreational activities that come with living along the Gulf coast, am not only proud to assist other families in finding their part of paradise, but also delight in being able to introduce others to the quality-of-life that Naples offers. Realtor Rusty Van Buskirk is known among his peers for imparting uncompromising commitment to customer service. From contract to closing, Realtor Rusty Van Buskirk devotes his expertise to achieving his customers' satisfaction, so whether listing your property for sale, or helping you to identify a home best-suited for your needs and budget, Realtor Rusty Van Buskirk remains committed to not only fulfilling your expectations, but also going the extra distance. With more than 40 years of experience, Realtor Rusty Van Buskirk is NOT a part-time Realtor, but a seasoned real estate professional who remains very passionate about operating a business that mandates service performance. When you're looking to purchase or sell a home in Naples, Bonita, Estero or any of the coastal communities of Southwest Florida, Realtor Rusty Van Buskirk can be trusted to help you.
Connect with Realtor Rusty Van Buskirk by submitting the contact form below:
Current Active Properties in Naples
Courtesy of Coldwell Banker Realty

Isles Of Collier Preserve

Courtesy of Royal Shell Real Estate, Inc.

Courtesy of Greider Realty

Courtesy of John R Wood Properties

Courtesy of Anchor Real Estate Brokers LLC

Courtesy of Downing Frye Realty Inc.

Courtesy of Downing Frye Realty Inc.

Courtesy of Xclusive Homes LLC

Courtesy of Keller Williams Realty Naples

Courtesy of BHHS Florida Realty

Courtesy of Century 21 Listsmart